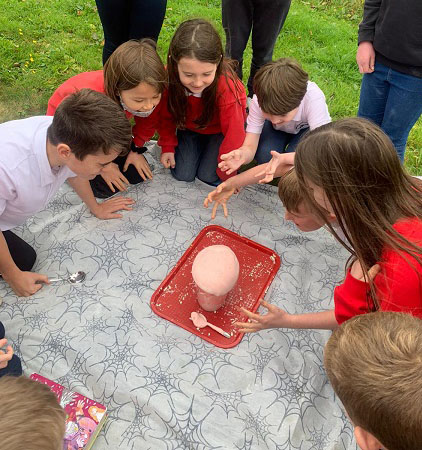 We marked 'Science Week' from Monday 9th to Friday 13th November last week.  We are presently working towards the Discover Primary Science Plaque of STEM Excellence which is awarded to schools in recognition of their extensive work in Science, Technology, Engineering and Maths.  
There were many Science activities in all classes during 'Science Week' this year including; science experiments, science shows, Mad Scientist Crazy Hair day, our virtual Science Showcase and much more. 
Please see a snapshot of some of the Science activities in the classes during Science Week 2020.
1st Class explored shadows in the school yard. 
2nd Class created a chemical reaction during the Fizzy Colours experiment and investigated what material would be best to use to create a teabag. 🤣 Also, they tuned into the science show "That's Non-Sense with Ginny Smith". Our 2nd Class absolutely loved this show and had great fun learning about the weird and wonderful tricks our senses can play on us. 
3rd Class explored floating and sinking of different stones and how a plasma ball reacts to sound and touch. 
4th Class made "Elephant toothpaste" 
5th Class completed the Chromatography and Milk Rainbow experiment. Also, they explored how plants absorb water and made butter.  
More Science Week photos to follow soon……..
We marked Science Week 2022 from Monday 14th to Friday 18th November.  👩‍🔬🔬 There was a variety of science activities investigated and explored in each class this year, including a range of science experiments, bug hunts, science shows, our virtual Science Showcase,...
1st Class Exploring Shadows
2nd Class
Investigation 1. Fizzy Colours Experiment.
Investigation 2. What material should we use to make teabags?
Science Show: That's Non-Sense with Ginny Smith. 
3rd Class Floating Stone Experiment and Plasma Ball Reactions
4th Class made Elephant Toothpaste
5th Class Chromatography and Milk Rainbow Experiment, exploration of water absorption of plants and butter making.
Mad Scientist Crazy Hair Day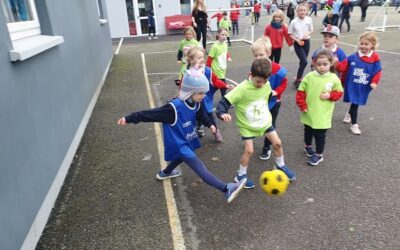 Knockskeagh has run World Cup tournaments for pupils in all classes over the last few weeks.  There is some amazing...
read more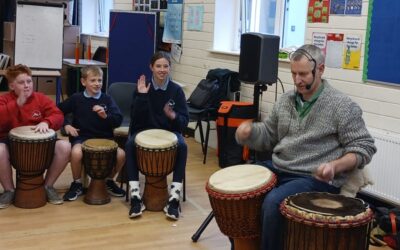 African Drumming Every Monday over the last four weeks each class has engaged in African Drumming workshops. Building...
read more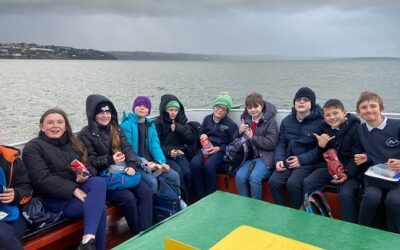 On Tuesday 22nd November, 5th and 6th Classes went on a trip to Spike Island. They are currently completing projects...
read more